Have Your Funnel Live + Making Money Before You Leave Nashville!?
Don't leave Funnel Hacking Live without taking action...
Hey - I'm Matt Morse, an online marketing coach with a knack for helping people build, optimize, and scale their funnels.
Funnels have changed my life and Funnel Hacking Live 2020 is going to be a game changer. 🤯
(Did you see Tony Robbins and Ryan Holiday are going to be speaking?!)
This is going to be you after your funnel is up and running, generating leads, and making sales... consistently and predictably!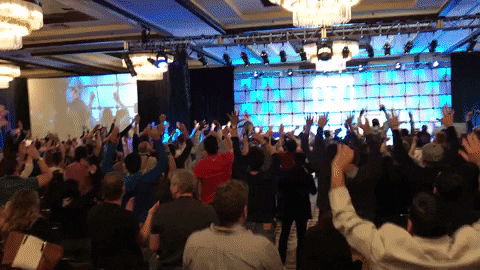 After countless marketing and business building events, I've seen 99% of people leave fired up... only to quickly return to their same old ways, taking little to no action on what they learned and the momentum that they created.
We're not going to let that happen to you at FHL 2020.
You know how much impact a profitable (and scalable) funnel can have on your life and business...
I'm sure the wheels are already turning in your head..
...and my funnel-building team is standing by and ready to get to work building your funnel for you!
My agency, Kaifect, is a team of former collegiate athletes turned funnel building experts.
We've built over 100 funnels for clients all over the country across many different industries.
In addition to building your funnel, we are going to optimize each step of the process to ensure that you can start generating leads and making sales while you sleep!
Just imagine what it would be like to take what you've learned from this event and have it immediately put into action before you leave the Music City.
Right now, you have a choice...
a) Have us get to work and build your funnel for you... (100% DFY.)
b) Build it yourself.
You know funnels work.You've seen the success they can create.It's time to take action.
The scary part about all of this is to think just how much money you are losing each day that you don't have a working funnel in place...
Have your funnel built by a team of pros without spending the time, energy (and frustration) that it takes to build your own.
The truth is that, although ClickFunnels is a great piece of software, you won't learn this overnight.
PLUS: If you go to another agency, they're going to charge you an arm and leg... only to give you a BORING, stock, cookie-cutter funnel!! No hourly fees here... and every funnel we touch is built from scratch!
Do what you do best.We'll take care of the rest.
We understand that your time and energy is extremely valuable and that you have many responsibilities... Building, tracking, and optimizing your funnel may not be your specialty... yet. 
Let us get in the trenches and create this for you so that you can keep charging forward with what you do best.
As soon as your new funnel is live, your products will be 'flying off the shelves' like you've never seen before..
Your list will be growing with high value customers that will quickly become raving fans!
How awesome would it be if you had your funnel up and running before you left Nashville?!?
What could that do for your business?
Because of the overwhelming demand on our funnel construction services, we typically don't offer a la carte services like this, but Russell has been a mentor to me and has made an incredible impact on my life and business that I want to share with others... so I am making a special offer to FHL 2020 attendees (but it's only available on this page)...
Because of the massively discounted services we are offering and the time we have to get this done, this offer is limited to the next 3 FHL attendees to take action and submit the form below.
Submit the application below and we'll follow up with you shortly:

We respect your privacy and will not distribute your info to anyone.